About Us
Drew & Micki Vroman -
Owners of Airtoyz Ultralight Aviation, LLC
(formerly: Paramotor City Glider Shop)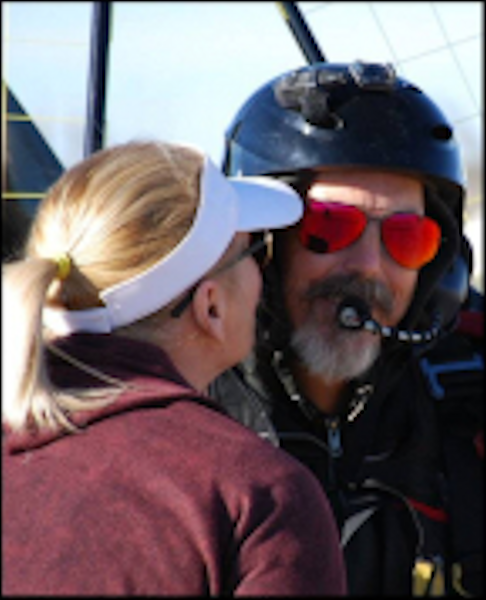 Drew and Micki Vroman met at a college dance in 1983 while they were attending "sister" educational institutions. They married in 1984 and have no children. In 2017 they negotiated the purchase of Michelle Daniele's 'Paramotor City Glider Shop'.
Drew and Micki Vroman have been fully trained by Michelle Daniele who has been a well-respected professional in the American powered paraglider inspection and repair field for many years. Eugen Schussman, master rigger for over 15 years, working exclusively for Swing Paragliders in Germany, trained Michelle Daniele to do inspections with the same high standards that are mandatory in his country. Drew and Micki operated the business from the same facility that Michelle used while training with her and during the first years' transition period. Having quickly outgrown the capacity of the original Paramotor City Glider Shop, and being homesick for the year-round flying weather of Arizona, The business has been relocated to two large hangers at Sun Valley Airport (A20) in Fort Mohave, Arizona. Since the business is no longer located at Paramotor City and will offer an expanded menu of services, Paramotor City Glider Shop has been renamed Airtoyz Ultralight Aviation, LLC.

Michelle Daniele will continue to be a valued "consultant" as Drew and Micki continue to grow the business.
Airtoyz Ultralight Aviation now offers the following services:
Paraglider, powerchute, hanglider, and fixed-wing ultralight wing inspection and repair.
Reserve parachute inspection and repair.
PPG, PPC, WSC trike tandem flights.
USPPA/USUA Approved Flight School PPG1, PPG2, PPG3 training with equipment provided.
Ultralight powered parachute (PPC) & powered hanglider (WSC trike) training with equipment provided.
PPG, ultralight PPC, and ultralight WSC trike rentals to qualified pilots (try before you buy!).
New and used PPG, PPC, WSC trike flying equipment and accessories available online and in person.
Ultralight vehicle engine and airframe maintenance and repair.
'Airtoyz Air Force' member benefits and events.
Paramotor City Glider Shop has inspected and repaired many 'free-flight' paragliders over the years but has specialized in powered paraglider wings. Since Drew also flys a 'speed wing' and is interested in getting 'free-flight' ratings, we are looking for more business from the 'free-flight' (PG) paragliding community.
Special rates are available for PG, PPG, PPC, WSC trike and other ultralight flight clubs or groups!
Please have a club officer contact us for details.
Airtoyz Ultralight Aviation has a mobile workshop that will be traveling to many of the fly-ins in the south-western United States. Paraglider replacement lines can be made, and fabric wing repairs can be performed "on-the-spot" to get you back into the air quickly in the event of a mishap.


About Drew Vroman:
Drew grew up in central California as the eldest son in an Air Force family. His family spent a year in Korea when he was 10 years old and he lived in Germany for 3 years during his mid teens. While in Germany he visited many western European countries. All the international travel and living on military bases with planes and helicopters taking off and landing constantly inspired Drew to become a Professional Pilot.
In his later teens Drew worked summers with his Uncle who restored classic Ford Mustangs. He learned to do basic bodywork and helped to do the final sanding process (called wet-sanding) where every square inch of the cars' body is meticulously sanded with fine-grit sand paper. If any area is missed during this process the finished paint will not adhere for very long (I'm sure you've all seen the car with peeling paint).
In 1981, after attaining a GED diploma ahead of his graduating class, Drew attended the University of North Dakota at Grand Forks. Drew pursued a double major of Professional Pilot and Astronomy. Learning to fly taught him the importance of highly focused attention to fine details that can mean the difference between life and death for the pilot and passengers. Astronomy taught him advanced mathematics, critical thinking and precision manipulation of fine instruments. Unfortunately, after full flight training through IFR rating standards, Drew was unable to qualify for an FAA pilots' license due to a medical issue.
Drew then attended Thief River Falls Area Vocational Technical Institute where he was formally trained as an Auto-Body Technician. Drew learned welding, metal fabrication, precision body and frame straightening, front-end alignment, A/C repair and automotive painting. One of Drew's instructors took him under his wing and taught Drew the art of restoring antique and classic vehicles to museum quality standards. This appealed to Drew's perfectionist nature and after graduating he specialized in museum-quality restorations and show-quality customizing of antique and classic cars, trucks, and boats for many years. Early in Drew's career he worked for 3 years at a custom car manufacturer doing the final prep work on the custom fitted fiberglass bodies. Meticulous surface preparation was the key to lasting quality during those years of his life. Drew retired from his auto-body career when we decided to RV full-time.
Drew had never been able to shake the "flying bug" and became interested in ultralights in early 1999 after seeing a website about a couple of guys flying powered paragliders across Arizona. Drew researched these flying machines and learned about the FAA's Part 103 regulations allowing the flying of single-seat "ultralight' vehicles without a pilots' license. This was it... A way to get back in the air without breaking the law!
Drew looked and looked for a way to get into the sport and finally, in 2003 a delta-wing trike manufacturer in Tulsa, Oklahoma, Private Aircraft Werks, hired Drew as a welder/fabricator. Within a week Drew had soloed in a 2-place trainer trike that was allowed under the old FAA Part 103 training exemption. Within 2 months Drew had accumulated the 100 hours flight time required to take the BFI (Basic Flight Instructor) ratings tests. Drew continued to work at Private Aircraft Werks constructing two-place delta-wing trainer trikes and helping many students achieve their dream of flight until the FAA replaced the Part 103 two-place training exemption with the new Sport Pilot regulations. Sport Pilot made our two-place trainer unmarketable and forced Drew out of training as the new regulations required an FAA license. Drew could still fly a single-seat ultralight but could no longer make a living doing what he loved.
About the same time that Drew discovered ultralight aircraft, he and Micki started gold prospecting as a hobby. After leaving Private Aircraft Werks Drew decided to take this gold prospecting hobby to the next level and they bought some land in Arizona near a gold placer area. Drew spent the next several years working full-time to develope and perfect prospecting techniques to increase his income while educating people new to the hobby. This caught the attention of a fledgling commercial gold mining operation nearby who offered Drew a position as Plant Manager and Safety Director. Drew went on to become a Mining Safety and Health Administration Certified Surface Instructor. Later Micki was offered a position in the gold processing room. Drew and Micki worked at the mine for several years until gold prices dropped and the mine shut down.
Drew never gave up the dream of working in the ultralight world and continued to follow the forums and groups looking for any opportunity to jump back in. Drew eventually bought a speed flying wing to satisfy his craving for flight.
And then it happened...
Michelle Daniele posted on the the PPGBigList Yahoo group that she was looking to sell her 'Paramotor City Glider Shop' business...
And here we are!
Drew was trained to fly PPG by Kirk and Sue Moser and attained USPPA PPG3 foot-launch and PPG3 wheel-launch ratings while at Paramotor City. USPPA PPG FL and WL Instructor and Tandem Instructor ratings will be attained through Ryan Shaw of Paradrenalin. Drew will also be seeking USHPA free-flight paraglider ratings in the near future.
A few examples of vehicles Drew worked on during his auto body career...
About Michelle 'Micki' Vroman:



Michelle Vroman, who has always been known by her nickname 'Micki', was born and raised in rural Minnesota, five miles from a town of 202 people with the nearest large city being 60 miles away. Her family raised animals, hunted, fished, and grew huge gardens that were harvested for canning and freezing food for the winter. This food helped provide for her great aunt and uncle, grandparents, and great grand parents who all raised her. It was a hard working environment, and Micki learned very early, how to be self sufficient.

Micki learned to sew at an early age and enjoyed making some of her own clothes. She also learned how to crochet, embroider, knit and repair clothing with the help of her grandmothers. This eventually led to an apprenticeship with an upholsterer friend who specialized in car interiors.

Micki was also an artist from early on, working mainly with pastels. Micki specializes in "hyper-realism", a type of painting/illustration which looks almost photographic, as opposed to a "painterly" approach. This process takes an eye for fine details, and lots of patience!

Micki attended college at Thief River Falls Community College, with a major in Art. This is where she met her husband Drew.

The years since then, put Micki on a different career path, and she spent over 20 years as a Customer Service professional, mainly in the Hotel/Resort/Tourism industry.

Micki has continued to pursue her artwork and photography all through the years including our time in Quartzsite, Arizona where Micki's artwork was the main focus.

While working as a photographer at Grand Canyon West Skywalk Micki received training from "The Photo Gurus". The primary instructor, Jim Sugar, was a contract photographer for National Geographic magazine. Micki still enjoys photography and occasionally does contract work.

When Drew started getting interested in ultra lights Micki wasn't really enthusiastic about it at first but eventually caught the "flying bug" and took her first delta-wing trike flight in 2012 as a 50th birthday present from Drew. She's had a love for flight ever since and encouraged Drew to find an opportunity for them both to work in the ultralight sport arena!
When the opportunity to purchase 'Paramotor City Glider Shop' from Michelle Daniele came up, it was a dream come true!

Micki's background has prepared her well for the challenges of wing repair with her perfectionism and patience being a great advantage.

Micki will be getting an FAA Sport Pilot License for WSC trike and PPC early in 2018, this will allow her to fly two-seat Light Sport WSC trikes and powered parachutes with passengers.



Our RV Lifestyle:
Our first "full-time" RV was a 1972 24' Dodge class A. We traveled the west and midwest eventually parking in Quartzsite, Arizona after discovering the amazing vending opportunities available there. The next few years were spent running our own shop selling Micki's artwork, crafts created by Drew and other home decor items.
In 2004 we bought 2 acres of bare land in northwestern Arizona close to a gold placer area. We bought a 1978 28' Holiday Rambler Presidential Series 3300 to live in on the property while Drew prospected full-time. Micki took a position as a Hotel/RV Park Manager on Lake Mead and we spent 3 years living at the resort while Drew continued to prospect for gold.
In 2009 we bought a 1 acre developed property near our other 2 acres with electric, septic and a water storage tank. We bought the property so we would no longer have to run a genertor and haul water. This was our home "base" until we decided to buy the Paramotor City Glider Shop business.
In 2015 we bought our third RV, a 2006 34' Forest River Sandpiper Sport SP34T (toyhauler). We tow this trailer with our "classic" 1982 1-ton GMC "3+3 Camper Special" dually powered by a modified 454 ci engine & modified TH400 transmission. We will be outfitting this trailer as a portable workshop for traveling to fly-ins and other ultralight gatherings.
We are currently living at Riverside Adventure Trails RV Resort just a few minutes away from the Airtoyz hangers at Sun Valley Airport.